Andrew Flintoff has spoken publicly for the first time since being seriously injured in a crash while filming Top Gear.
The former cricket star described going through "the hardest" time of his life as he was filmed awarding an England cap to spin bowler Tom Hartley.
In the clip, released by the England and Wales Cricket Board on social media on Wednesday, Flintoff told Hartley it was a day the player would "remember for the rest of your life".
In an emotional speech, Flintoff said: "Your journey hasn't been like a lot of people's. There were no academies, no systems but to me (that) suggests a steeliness, a determination, a passion – which might not be evident on the outside – but it's definitely burning inside.
"When you get this cap, this changes your life. It's one of those things – it's before and after it.
"This enables you to walk tall and move faster. Play with passion, play with pride, play with belief. And also (be) part of a family of people.
"They'll share the good times with you, the successes. But as I found over the past few months, they'll be there in the hardest times of your life, they will stand next to you.
"So like the lion on the cap Tom, be brave, be fearless, be proud and enjoy every minute. It gives me great pleasure to present cap number 272 to Tom Hartley."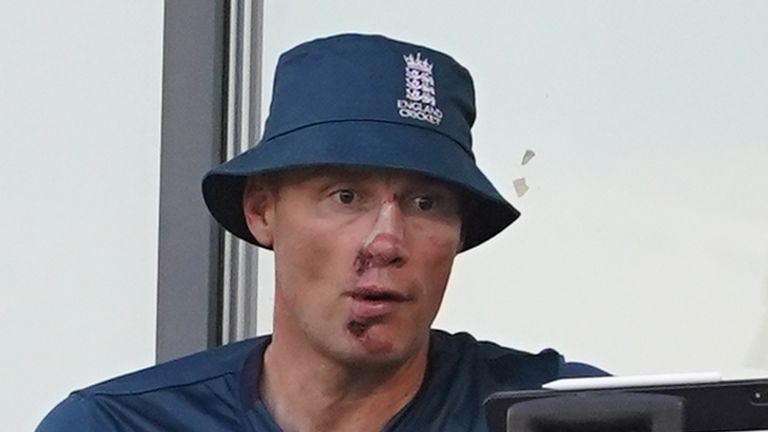 As the watching players and coaches applauded, Flintoff handed Hartley the cap and shook his hand.
The footage was filmed before Hartley's international debut in a one-day international (ODI) against Ireland at Trent Bridge in Nottingham last month.
Flintoff – widely known by his nickname "Freddie" – suffered a serious crash last December while filming the BBC TV series Top Gear.
Read more from Sky News:
2030 World Cup to be played over three continents
Klopp demands Premier League match replay
The 45-year-old was left with several broken ribs and severe facial injuries and the BBC cancelled the rest of the Top Gear series after the incident.
Flintoff made a rare public appearance in September, where his facial injuries were still visible nine months after the crash.
In the summer, he began helping coach the England limited-overs squads in an unpaid consultancy role.