A number of rockets fired from the Gaza Strip have been intercepted by Israel's missile defences.
The cross-border fire came after an Israeli raid in the occupied West Bank on Thursday that led to the largest single death toll in years of fighting in the area.
The overnight rockets triggered sirens in Israeli communities near the border with Gaza, warning residents to take shelter.
There were no reports of injuries.
Israel's Channel 12 aired footage of Israeli interceptor missiles being launched above the city of Ashkelon, about seven miles (12km) north of Gaza, which is controlled by the Islamist militant group Hamas.
A few hours later, Israel's military said it had carried out strikes in Gaza.
Palestinian witnesses said Israeli aircraft had targeted a Hamas training camp.
No injuries were reported.
Read more:
Tensions rise as far-right government hardens policies towards Palestinians
Israeli minister bans Palestinian flag from public spaces
Hamas warns Israel another war is inevitable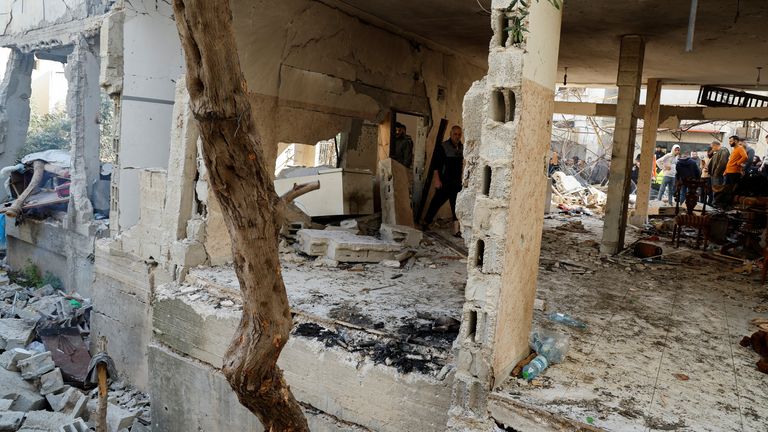 Tensions flared after Israeli commandos killed seven gunmen and two civilians during a raid on the flashpoint town of Jenin on Thursday.
Hamas and the smaller militant group Islamic Jihad promised a response but neither group immediately claimed responsibility for the rockets fired at Israel.
After the Jenin violence, the Palestinian Authority said it was ending its security coordination with Israel.
The arrangement has been widely credited with helping to keep order in the West Bank and preventing attacks against Israel.
Prime Minister Benjamin Netanyahu said Israel was not looking to escalate the situation, though he ordered security forces to be on alert.
Violence has surged since a series of lethal Palestinian street attacks in Israel last March and April.