The UK could be complicit in war crimes in Gaza and could face legal action if it does not do more to "restrain" Israel, Tory MP Crispin Blunt has warned.
The International Centre of Justice for Palestinians (ICJP) – of which Mr Blunt is co-director – announced it has written a notice of intention to prosecute UK government officials for "aiding and abetting war crimes in Gaza".
The move comes in response to Israel's warning for 1.2 million people living in the northern part of the Gaza Strip to immediately leave their homes and move south.
Israel launches first ground missions in Gaza – Israel-Hamas war latest
Mr Blunt told Sky News he is "not sure [his] colleagues have grasped the legal peril they are in" and "everyone must act to restrain people" if they know war crimes are going to happen.
"If you know that a party is going to commit a war crime – and this forcible transfer of people is a precise breach of one of the statutes that governs international law and all states in this area – then you are making yourself complicit," he said.
"And as international law has developed in this area, the fact of being complicit makes you equally guilty to the party carrying out the crime."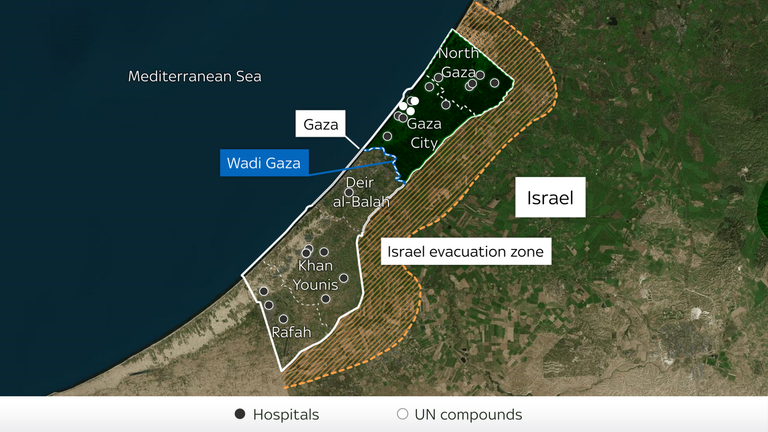 Palestinian 'children killed'
Israel continues to pound densely-populated Gaza despite warnings over civilian casualties – with authorities saying 1,900 Palestinians, including 583 children, have been killed.
Israel appears to be gearing up for a ground offensive in response to a violent attack launched by Hamas a week ago, during which hundreds of civilians and soldiers were killed and more than 100 people taken hostage.
The Israelis have also blocked the entry of goods into Gaza – which is home to 2.3 million people – and cut off electricity, leaving emergency services dangerously low on fuel.
And with the Egyptian border still closed and no humanitarian corridor agreed, Gazans can only flee further south through two main roads.
'Where does this lead?'
"Of course our hearts all go out to the state of Israel and the people there for the appalling atrocity committed," Mr Blunt said.
The Israeli army has ordered people to leave the north of Gaza within 24 hours, with a possible ground offensive looming.

"But what we're not allowed is witness one crime being piled on with another, which is going to make the situation worse but is also fundamentally wrong."
He added Israel has "had a deal of exceptionalism and impunity from international law for a very long time now" and urged the UK to back UN calls for a ceasefire and lifting the total blockade.
"This has got to stop," Mr Crispin said. "If in response to the atrocity of last Saturday is an illegal atrocity that is even worse in scale – where does this lead?"
Read more:
Sean Bell: Hamas is being used as a pawn
Arab-Israeli family want Gaza 'flattened' after brother killed by Hamas
Gaza: Why 24-hour evacuation is 'impossible'
Asked about the evacuation call, Israeli Defence Forces (IDF) Lieutenant Colonel Peter Lerner told Sky News "people are adhering and listening".
"We are continuing to increase our activities," he said, adding it is important to "remember where we were just one week ago".
"We were in the midst of this massacre taking place in our towns and we are determined to make sure this never happens again. Our mission now is to strike Hamas wherever they are."
Sky's Defence and Security editor, Deborah Haynes, has visited the Be'eri kibbutz, close to Gaza, where more than 100 people were killed by Hamas, as devastated families still hope for the safe return of those who went missing.

Questioned on whether Israel should rethink the policy to evacuate people in such a short space of time, he added the IDF was "determined [to end] Hamas's capabilities and safeguard the people of Israel".
As Downing Street remains steadfast in its support for Israel, the UK's political leaders have been accused of giving Israel the green light to attack Hamas without regard to international law.
Francesca Albanese, the United Nations Special Rapporteur on the Occupied Palestinian Territories, criticised the UK government for giving Israel a "carte blanche" by asserting it "has the right to defend itself".
She told Sky News: "[The UK has] already given Israel carte blanche to do whatever it pleases, because look at the annexation that has been announced officially this year of large swathes of the West Bank."
"Has anyone reacted to this? Not that I know of, other than in words and half-mouthed condemnations here and there."