Holding out his phone, a soldier walked towards me in the shattered ruins of a kibbutz in southern Israel.
"This is my friend," he said, showing a photograph on the screen of a beautiful young woman and her fiancé.
Their names were Nieve Raviv, 27, and Nirel Zini, also in his 20s. The soldier described Nieve as someone with a big heart who made people happy.
"I found out yesterday that she was killed here," he said, gesturing towards a cluster of devastated homes.
Their once-white walls are blackened by fire – those that are still standing, anyway.
He added: "The worst news… You just think about your friend who has just gone, you are not seeing them again."
Israel-Hamas war live: Israel preparing attack by air, land and sea
The young couple lived on the Kfar Aza kibbutz – one of the communities most brutally savaged when Hamas militants from nearby Gaza rampaged across this stretch of rural farmland last weekend.
Their petite, simple bungalow is now a charred husk. The entire front has been blown out – most likely in the fierce gun battle that erupted after the bloodshed as Israeli forces fought back.
The soldier, who asked to stay anonymous, showed me a text exchange between Nirel and Nieve from last Saturday as the militants first punched through a metal fence that marks the boundary of the kibbutz, barely a mile away from the entrance to Gaza.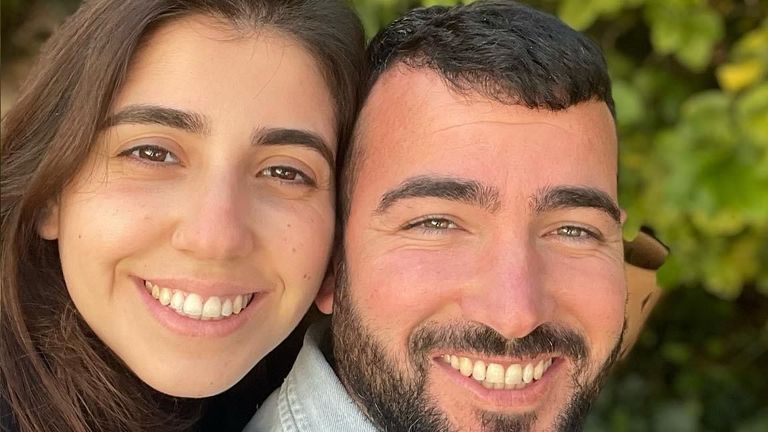 Nirel messages: "They are here."
He says he is putting his phone down.
Nieve then sends a series of messages, asking him to send her a signal that he is okay.
"Tell me you're alive. Just tell me something."
There is no reply. Then her messages stop too.
Read more:
Injured British-Israeli soldier describes Hamas attack
Thousands in London show support for Palestine
UK could be complicit in Gaza war crimes, Tory MP warns
70 killed in Israeli airstrike'

Israeli soldiers who cleared the kibbutz of the Hamas invaders said what happened here was a massacre.
The bodies of the victims have been carefully taken away, while the remains of some of their killers are still visible.
A stench of death hangs in the air.
Bullet casings lie amid shattered concrete.
A broken, purple-coloured moped lay on its side, likely ridden in by one of the attackers.
The soldier, mourning his friend, said he returned to active duty as a reservist in the wake of the atrocity.
He said he was ready to join an anticipated ground attack on Gaza if given the order.
Asked if he sought vengeance, he said: "I don't want revenge I just want justice… I want to bring the life here back, and I want to make sure this never happens again."