Thousands of Taylor Swift fans flocked to cinemas on Friday night with glow sticks and friendship bracelets in hand to watch the pop star's Eras Tour concert film.
The film, which runs for just under three hours, is expected to make hundreds of millions of dollars worldwide after becoming the most profitable concert film in history.
Screenings across London sold out, with hundreds of fans bustling around Leicester Square on Friday evening with glow sticks, sparkly dresses and complimentary posters showing Swift in a jewelled bodysuit.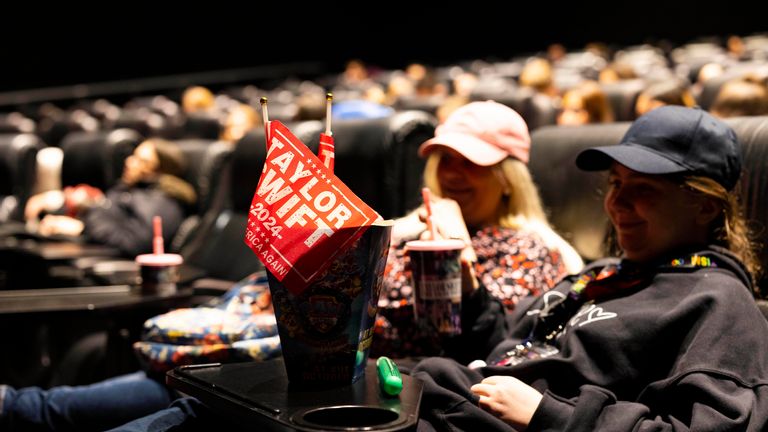 Workers said they were relaxing cinema etiquette, with fans taking full advantage – singing, dancing and cheering as the film showed Swift speeding through almost 40 hit songs from her 17-year career.
Many had not scored coveted tickets to Swift's live UK dates next summer and were thrilled by the opportunity to attend their own performance of the Eras Tour. Some said this would be the first screening of several they would go to.
The film has received hugely positive reviews and for good reason.
Filmed across several concerts held in Los Angeles' SoFi Stadium in August, Swift's immense catalogue of hits and even more impressive energy and stamina result in a cinematic offering that has no dull moments.
There's even a touching moment when Swift gifts the late Kobe Bryant's daughter a black bowler that is synonymous with her Red album.
So all-encompassing is Swift's popularity that she pushed the film's release forward by one day in the US and Canada due to "unprecedented demand".
Taylor Swift's film premieres

In the UK, the film broke the record for the most tickets sold during the pre-sale opening week for a music event, according to Vue International.
US cinema chain AMC Theatres Distribution previously said the Swift film had beaten its record for the highest ticket-sales revenue during a single day in its 103-year history.
It also broke the record for the most profitable concert film in history one week before its release. Global advance ticket sales had topped $100m (£82m) as of 6 October.
Read more:
The Eras Tour film coming to UK – here's how to get tickets
Taylor Swift and Beyonce reporters wanted by US newspaper chain
Swift will bring the live Eras Tour show to the UK next year, visiting Edinburgh, Liverpool, Cardiff and London.
The UK and Ireland leg of the tour will start in Edinburgh with three shows at Murrayfield Stadium on 7, 8 and 9 June 2024 before she heads to Liverpool's Anfield stadium for 13, 14 and 15 June.
Cardiff's Principality Stadium follows on 18 June before three dates at London's Wembley Stadium on 21, 22, and 23 June.
She will then play dates in Ireland, Netherlands, Switzerland, Italy, Germany, Poland and Austria before returning to Wembley in August.