The mother-in-law of Scotland's first minister Humza Yousaf has asked "where is people's humanity?" – in a tearful appeal on social media from Gaza, adding: "This will be my last video."
Elizabeth El Nakla – the mother of Mr Yousaf's wife Nadia – visited Gaza last week with her husband Maged, when Hamas launched a surprise attack on Israel at the weekend.
But the pair have since been "trapped" following the subsequent reprisals.
Israel has warned Palestinians to move to the southern part of the Gaza Strip ahead of an anticipated ground offensive, although Hamas has asked them to stay put and ignore the Israeli order to evacuate.
War latest: Israel tells 1.1m Palestinians to move south
Speaking from Deir Al Balah, south of Gaza City, in a video posted by Mr Yousaf to X, formerly Twitter, Ms El Nakla said: "This will be my last video.
"Everybody from Gaza is moving towards where we are.
"One million people, no food, no water – and still they're bombing them as they leave.
"Where are we going to put them?" asked the retired nurse from Dundee.
The region subject to the Israeli warning includes Gaza's biggest hospital, which Human Rights Watch has said is dealing with more than 6,000 casualties, and two major refugee camps.
"But my thought is – all these people in the hospital cannot be evacuated," she continued.
"Where is humanity? Where's people's hearts in the world, to let this happen in this day and age?
"May God help us, goodbye."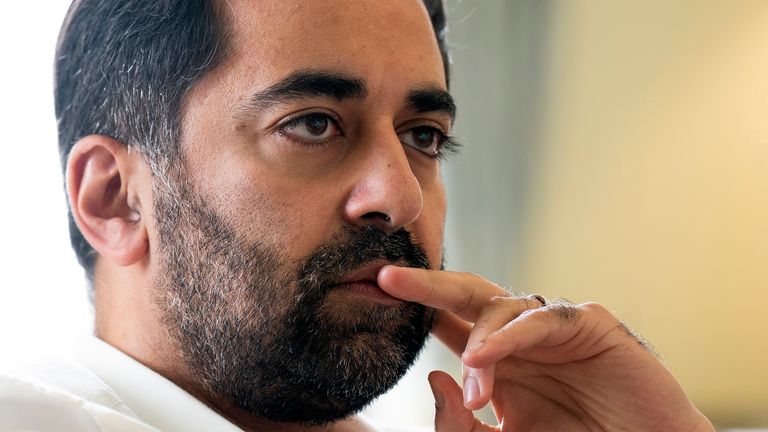 In a post alongside the video, Mr Yousaf said: "This is Elizabeth El Nakla. She is my mother-in-law. A retired nurse from Dundee, Scotland.
"She, like the vast majority of people in Gaza, has nothing to do with Hamas.
"She has been told to leave Gaza but, like the rest of the population, is trapped with nowhere to go."
Among the first to comment on the post was former first minister Nicola Sturgeon, who wrote: "My heart breaks for the people of Israel and for all the innocent civilians in Gaza who are also paying the price of Hamas's appalling acts of terror.
"Closer to home, my thoughts are with my friends Nadia and Humza and their family, and also with Scotland's precious Jewish community, at this unimaginably awful time."
Read more:
Britons 'highly likely' among hostages held by Hamas
UK sending navy ships and spy planes 'to support' Israel
The UN has described the Israeli military order as "devastating" and said it is impossible for such a movement of people to take place "without devastating humanitarian consequences".
Israel has vowed to annihilate the militant faction of Hamas which led Saturday's attacks and kidnappings in Israel.
Hamas tunnels, military compounds, senior operatives' residences and weapons storage warehouses were among 750 military targets struck overnight, Israeli authorities said.
Click to subscribe to the Sky News Daily wherever you get your podcasts
A much-talked-about ground invasion of the narrow and densely populated Gaza Strip, home to 2.3 million people, poses serious risks, with Hamas threatening to kill its hostages.
Since the Israeli evacuation call, there have been no signs of people leaving Gaza City.
Mr Yousaf urged the international community to "step up".
"Enough. There can be no justification for the death of innocent men, women & children," he wrote on X.