The US has sent a team of technical experts to Israel to assist in hostage recovery , according to official sources.
The team are there to advise and work the Israelis on how to free people who are being held hostage, the official said.
Hamas is believed to have taken more than 100 hostages during its surprise attack on Israel on Saturday.
President Joe Biden said in a statement that he believes Americans are likely among some of those kidnapped and taken to Gaza.
Israel-Gaza latest: Israel vows to 'wipe out' Hamas after boys 'beheaded'
Israel-Hamas conflict moves to the air

He added: "I have directed my team to work with their Israeli counterparts on every aspect of the hostage crisis, including sharing intelligence and deploying experts from across the United States government to consult with and advise Israeli counterparts on hostage recovery efforts."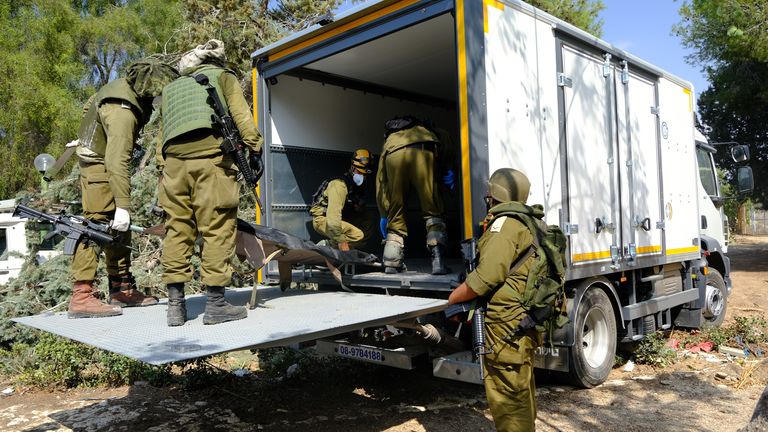 In addition to providing help to extract the hostages, the US reportedly attempting to coordinate with other countries on a plan to offer safe passage out of Gaza for civilians.
Palestinian civilians and Americans in Gaza would escape the through a Southern corridor leading into Egypt under the plan being considered, NBC reports.
With Israel preparing for a potential ground incursion into Gaza, civilians who have no connection to Hamas are in danger of being left homeless or killed in the fighting.
Mr Biden urged Israel's prime minister, Benjamin Netanyahu, to minimise civilian casualties in the Gaza Strip as Israel sets out to destroy Hamas.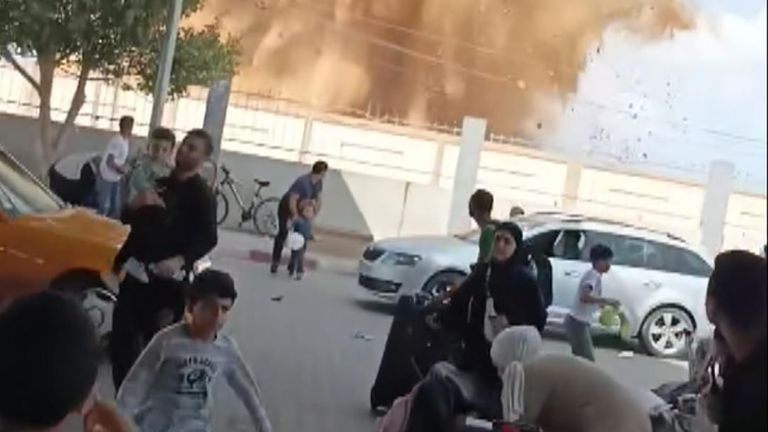 Read more:
Foreign secretary calls on pro-Palestinian protesters to stay at home
Who is secretive Hamas commander behind attack on Israel?
Trapped British family heard dog 'burn to death'
At least 1,200 Israelis are dead and more than 2,700 have been wounded, in the latest figures supplied by the IDF.
The latest information from Gaza's Health Ministry said that at least 900 Palestinians had also lost their lives.
Israeli warplanes hammered the Gaza Strip through the night into Wednesday morning, reducing buildings to rubble and reportedly striking over 450 targets.
Israel has stopped entry of food, fuel and medicines into Gaza, and the sole remaining access from Egypt shut down Tuesday after airstrikes hit near the border crossing, with the violence expected to escalate further.
Netanyahu's phone call with Biden

In other key developments on Tuesday:
• Bodies of 1,500 militants found, say Israeli authorities
• 30 missing people reportedly found alive and well in a kibbutz three days after Hamas attack
• More than 180,000 Gazans have been made homeless amid Israeli bombardment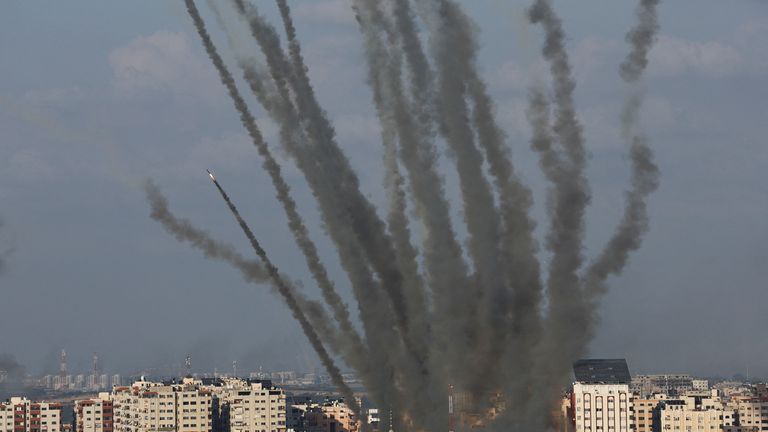 Yesterday, Israel said babies and children were among those killed during Saturday's attack by Hamas.
Soldiers had been retrieving bodies from homes in the Kfar Aza kibbutz in southern Israel after the Hamas incursion.
Click to subscribe to the Sky News Daily wherever you get your podcasts
Israeli Major General Itai Veruv, escorting journalists at the scene, said: "You see the babies, the mothers, the fathers, in their bedrooms, in their protection rooms and how the terrorist kills them", according to the Reuters news agency.
The Israel Defence Forces (IDF) told Sky News: "We cannot confirm any numbers. What happened in Kibbutz Kfar Aza is a massacre in which women, children, toddlers and elderly were brutally butchered in an ISIS way of action."
The Israeli military has also said it shelled Syria on Tuesday after rockets hit open areas on Israeli territory.
The military did not accuse any group of the rocket attack and the Syrian government did not comment.