From destroyed homes I watched stretcher bearers bringing out the body of a small child.   
Without saying a word, the men carried the body and loaded it onto a truck alongside the bodies of other members of the community murdered as they hid or tried to defend themselves.
We were taken to the Kfar Aza kibbutz by the Israel Defense Forces – above us the country's Iron Dome defence system exploded incoming rockets, and all around us soldiers and military vehicles criss-crossed roads and took up defensive positions in farmlands.
Israel vows to 'wipe out' Hamas – follow live conflict updates
It's sometimes like a movie scene covering these stories, but it isn't a movie, it's a war and it started in the early hours of Saturday morning with murder and mayhem.
What happened in the many communities attacked at the weekend by Hamas gunmen remains almost unfathomable to me, and to the Israeli population.
Not just the savagery of the attacks, but the complete failure of the defence and intelligence services to predict or stop it in good time.
Footage shows Hamas attack on Kfar Aza kibbutz.

And what happened at Kfar Aza kibbutz located right on the Gaza border can only be described as a massacre.
The gruesome details are still coming out. The IDF soldiers on site say the world can't ignore this.
"It's so hard to see this but we have to look at this because questions will come down the road about proportionality, and the question is, when somebody is a mass killer and they want to destroy you like ISIS, what is the proportionality for someone like that?" Major Doron Spielman told me.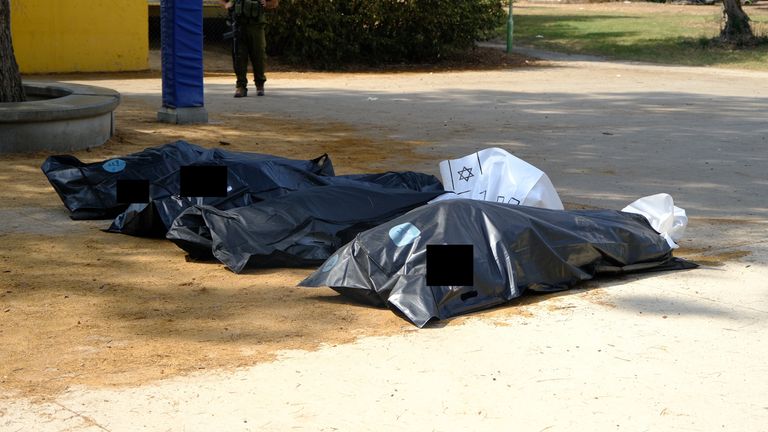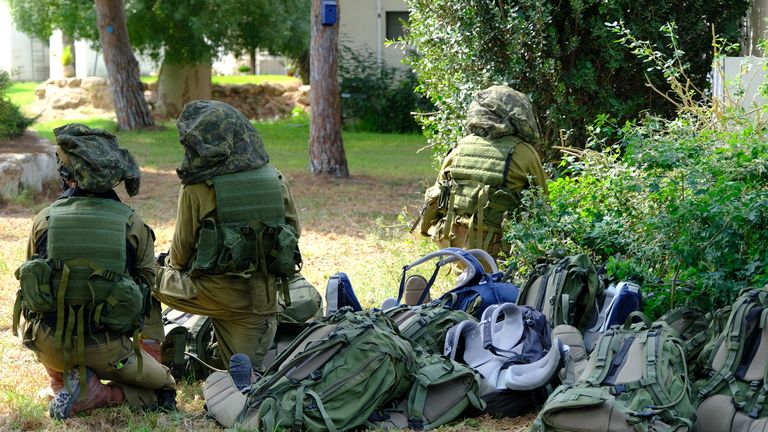 The stories here are shocking – families being woken without warning to voices outside their houses, mums and dads hiding their children in cupboards, wine cellars and basements, husbands and wives becoming separated in the fight.
On the basketball court more bodies are lined up in black body bags, waiting to be collected and identified.
The court, the playground, children's bicycles, pushchairs and prams, and playrooms with kids' dress-up clothes, paints a picture of a community of families.
They were caught completely off guard when the attack started, and in real terms they were unprotected.
Read more
Israeli military shells Syria
Waving a Palestinian flag in UK 'may not be legitimate', home sec says
Gaza surgeon describes 'devastating' impact of blockade by Israel
Trapped British family heard dog 'burn to death'
Netflix star heads to Israel warzone to rescue families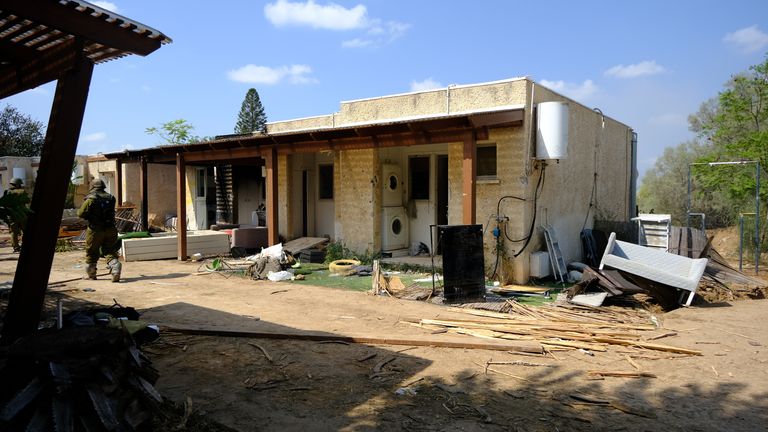 "Seeing the sights here I don't think anybody can actually imagine people or human beings can do that to another human being," Major Nir told me, describing the scene as "carnage".
Those who lived here were on their own for 17 hours before any help arrived.
"Unfortunately, people in Israel need to take care of themselves… the military is spread here in mass forces, but still it's a large section of area, and people who are living in this vicinity of Gaza, they know what they need to do, unfortunately this time they got us by surprise," he explained.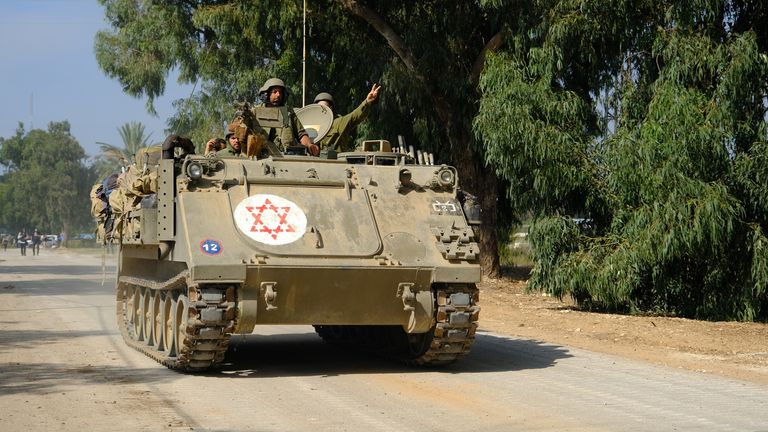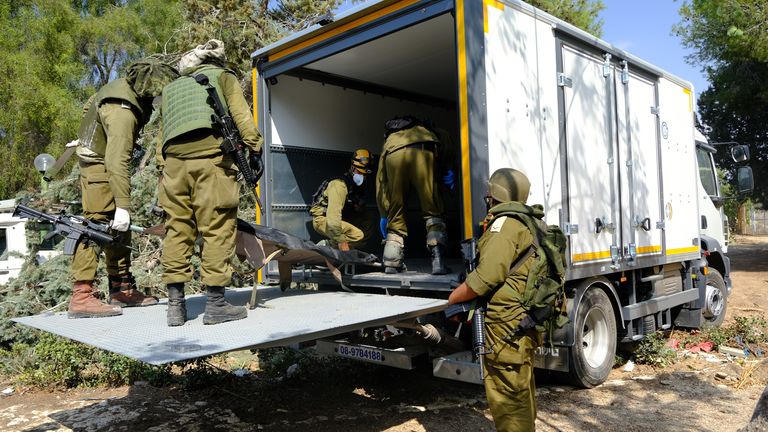 The pretty homes and lush green gardens must have been a magnet to those wanting a life outside of Israel's many cities, but as an outsider who has covered the Palestinian-Israeli issue for decades, I always thought these communities built right up to the fence that divides these two peoples was a very dangerous decision to make.
There hasn't been peace here for my whole career. As we filmed, more troops arrived at Kfar Aza.
They have to keep going through the houses searching for bodies, booby traps and unexploded bombs, trying to clear it so it is safe.
The soldiers are tense and ask us to withdraw from a position they are clearing.
They mark off an area behind a shed, there is a grenade next to a gas canister.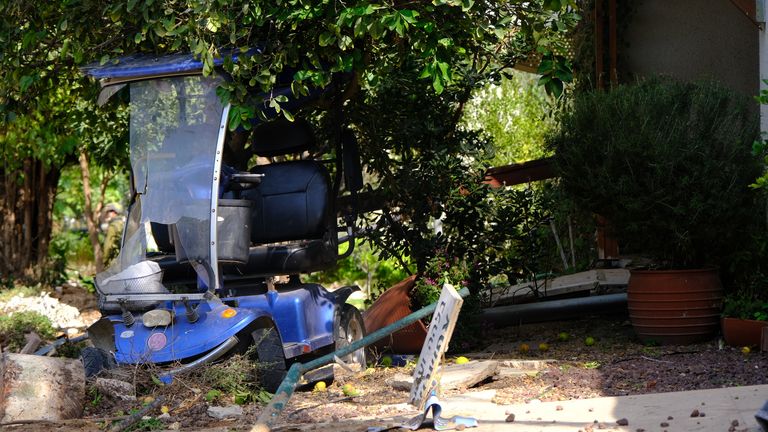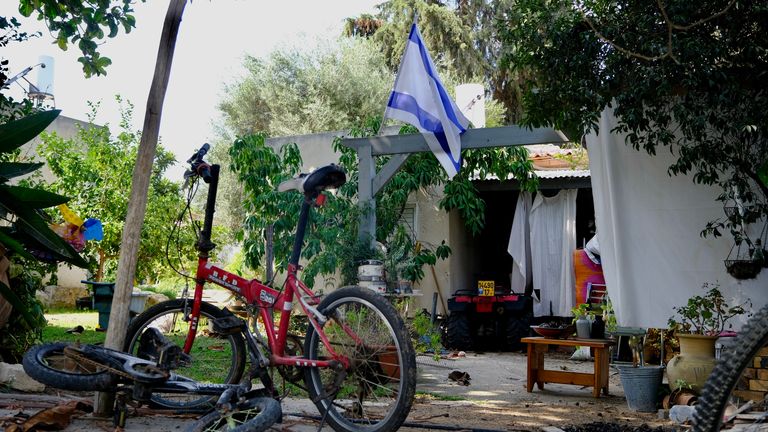 The air force continues to attack Hamas positions in the distance.
We're so close to Gaza soldiers have to take up defensive positions wary of another attack, and if the Israelis are uncertain of anything they put down fire.
The survivors have been taken away from Kfar Aza; many families have been torn apart and the fate of their loved ones is unknown.
We went to meet Shaylee Atary and her one-month-old baby who escaped their home and survived by hiding in some bushes, then in a shed, and finally in another house.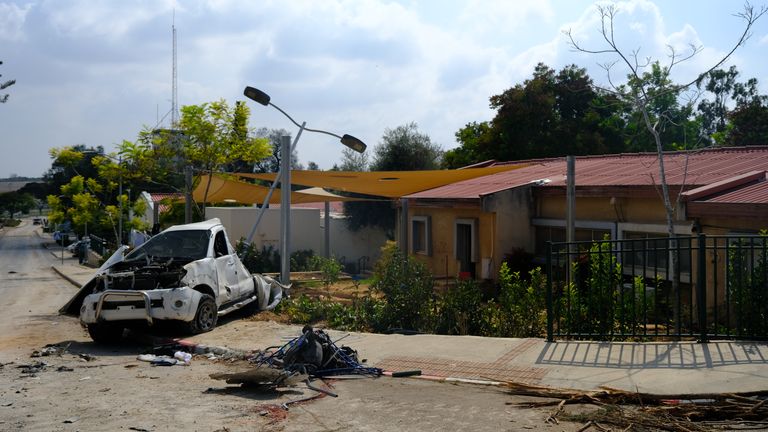 In the chaos Shaylee was separated from her husband Yahav Winner – and he disappeared.
She wanted to talk to us about her husband, a filmmaker like her, saying she thought he had been taken hostage, and that every minute counted.
Just before we began our interview proper, the family received a phone call. It was the IDF calling to tell them Yahav had been killed.
It was an excruciatingly painful moment to witness – it is the horror of war – but the family allowed us to film so everyone understands what war actually looks like.