At least 40 people have been killed in flooding in the Indian Himalayan region, officials have said.
The flood began on Wednesday when the waters of the glacial South Lhonak lake breached a hydroelectric dam.
That triggered flash flooding in the mountainous Sikkim state of northeastern India, impacting towns and villages along the Teesta River in the Lachen Valley.
As many as 22,000 people have been impacted, with nearly 100 people, including 22 soldiers, still reported missing.
Officials in Sikkim put the death toll at 18 on Thursday, while in the neighbouring state of West Bengal, another 22 bodies were recovered downstream.
Fatal flooding submerges Indian towns

Relief camps have been set up to aid residents, while the Indian army said it was planning to evacuate nearly 1,500 stranded tourists from the region using helicopters.
Eleven bridges were washed away by the floodwaters, which also hit pipelines and damaged or destroyed more than 270 houses in four districts, officials said.
Prime Minister Narendra Modi's office said that the government would support state authorities in the aftermath of the flooding.
The waters of the South Llonak Lake have been rising in recent years as a warming climate melts the glaciers that feed it.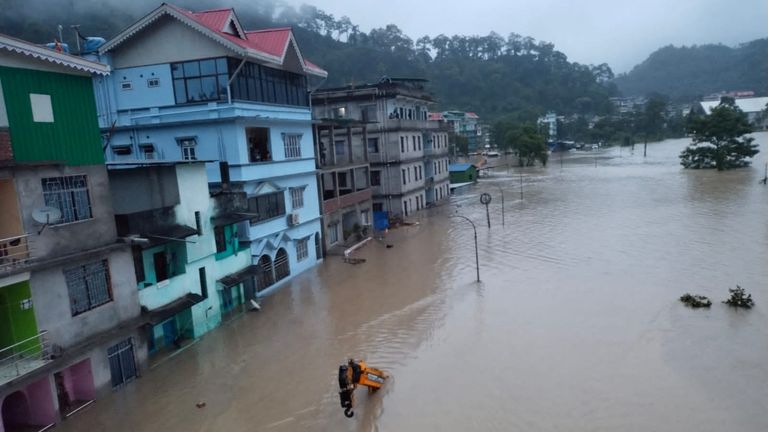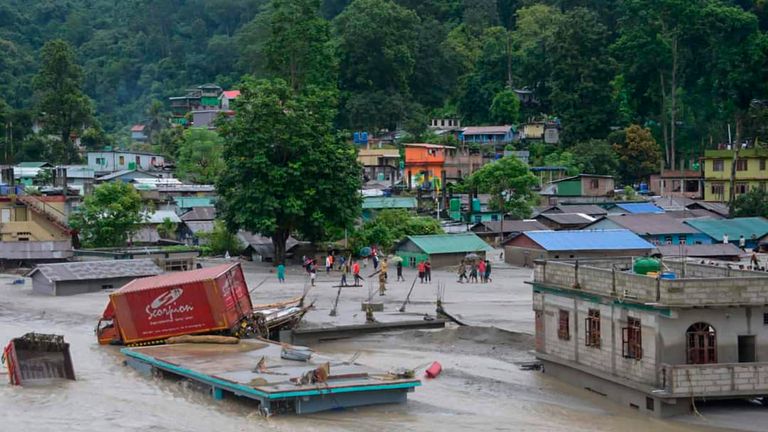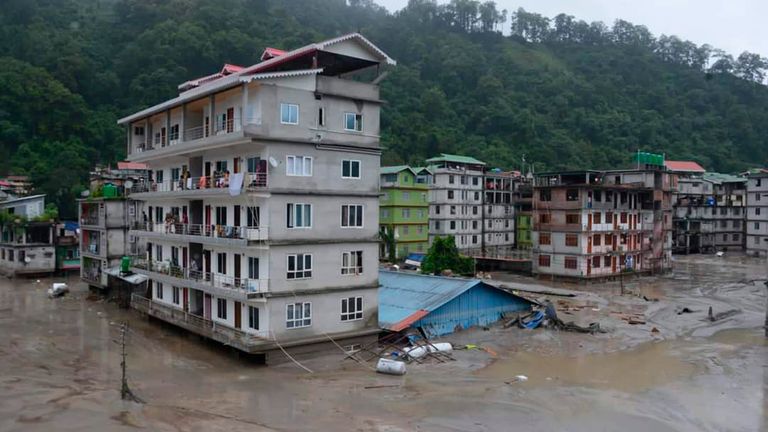 Read more from Sky News:
Indian MP 'called terrorist' by member of Modi's party
Is India really going to change its name?
Himalayan city shows why climate change is a top priority
Cloudbursts – sudden, very heavy rains – are believed to have triggered the breach of the dam on Wednesday, though officials are yet to confirm the cause.
Cloudbursts happen when more than 10cm (3.94in) of rainfall occurs within 3.86 square miles (10 sq km) within an hour.
Although a common occurrence in Himalayan regions, experts have said they are alarmed by the increase in extreme weather-related events in the area.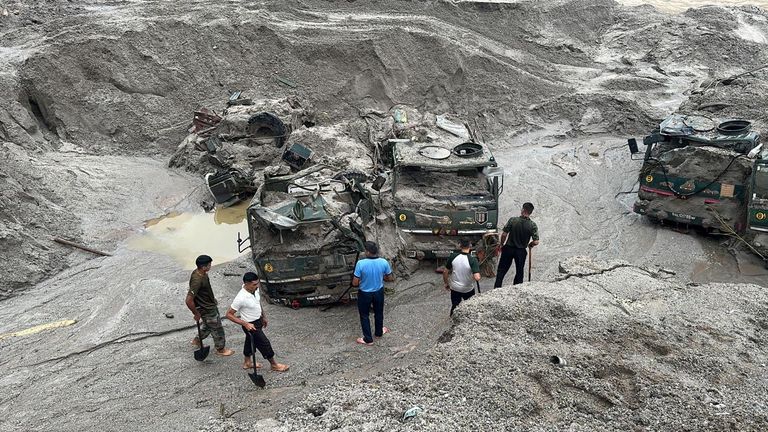 The flooding in the Sikkim region is the latest to hit northeast India in a year of unusually heavy monsoon rains.
Dozens died in flash floods and landslides in August in nearby Himachal Pradesh state.
Record rains in July killed more than 100 people over two weeks in northern India, as roads were waterlogged and homes collapsed.