David Beckham has insisted he was not upset by the criticism he received over his decision to accept millions of pounds from Qatar to serve as a football ambassador around last year's World Cup, despite its stance on LGBTQ+ rights. 
Speaking at the premiere of his new Netflix documentary, when asked if he had done his homework about what life is like for gay people in the Arab country, he insisted: "I always do that".
"Let the football do the talking, it was a great tournament, a lot of people were happy.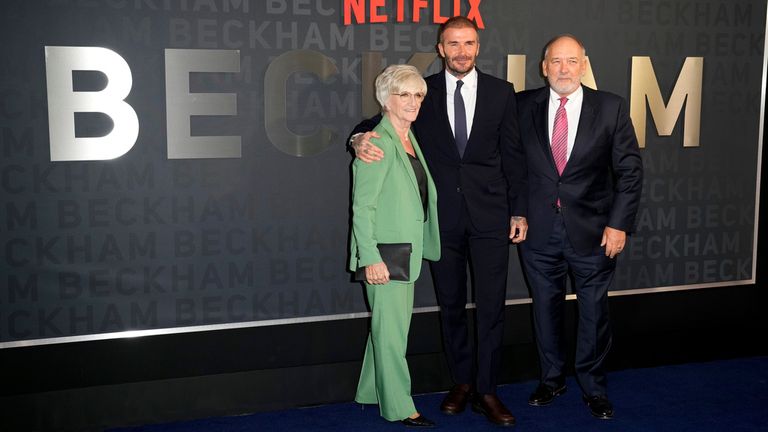 "I had a lot of conversations with the LGBTQ community when I was there. They said they had enjoyed the games and they felt it was the safest World Cup they'd had for a long time, it was an important competition and one I was proud to be a part of."
A gay icon for decades, Beckham was widely criticised for his decision to accept millions of pounds from the Qatari regime where campaigners say the LGBTQ community live with persecution and police beatings.
"Once we were there we knew that there was going to be people that spoke about it a little bit more," Beckham explained.
"I've always said that football is a game that should be shared around the world. This was an opportunity for the Arab world to get a World Cup."
Rarely does Beckham give interviews which is what makes him being the subject of a new four-part documentary all the more fascinating.
Read more on Sky News:
Pamela Anderson praised for going makeup-free
Easy Life band sued by easyJet owners
Not only do viewers learn how Beckham would drive from Manchester to London to see Victoria 'for seven minutes' back in the early days, but most revealing is the insight into how the public turned on him after his infamous '98 World Cup red card.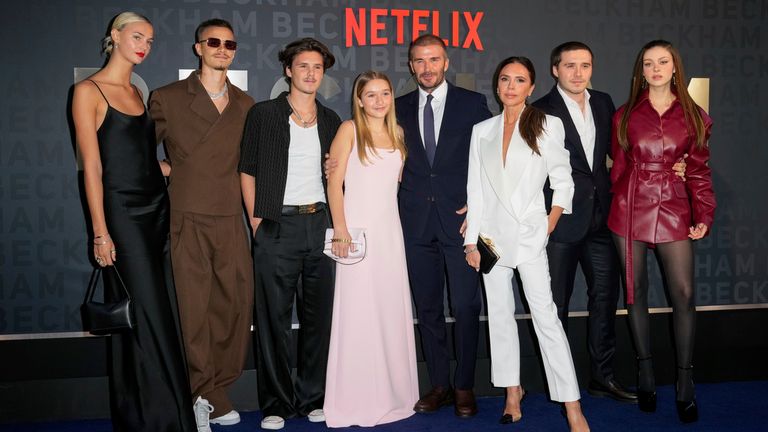 Details of which include how he was spat at, heckled in the street and couldn't eat or sleep with the stress of what he had done.
"I'd never really sat down and talked about it in such detail," Beckham admits.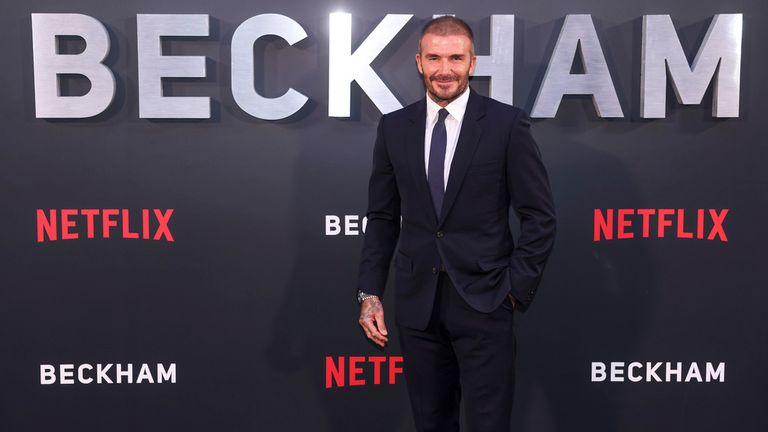 Signing up to the series, he says, was a much bigger undertaking than he thought it would be.
"I expected to sit down a couple of times and then the rest be archive and then it was either 30, 40 or 50 hours of sitting down.
"But you know what? There was a lot of things to talk about…at the end of the day people know some of the stories but they've probably never heard them from me."
Beckham is available on Netflix from Wednesday.