The Nobel Prize in medicine has been awarded to two scientists for their research which led to the development of effective mRNA vaccines against COVID-19.
The accolade, among the most prestigious in the scientific world, went to Katalin Kariko, from Hungary, and Drew Weissman, from the United States.
"Through their groundbreaking findings, which have fundamentally changed our understanding of how mRNA interacts with our immune system, the laureates contributed to the unprecedented rate of vaccine development during one of the greatest threats to human health in modern times," the panel that awarded the prize said.
Ms Kariko is a professor at Sagan's University in Hungary and an adjunct professor at the University of Pennsylvania. Mr Eisner performed his prize-winning research with Kariko at the University of Pennsylvania.
Thomas Perlmann, secretary of the Nobel Assembly, announced the prize and said both scientists were "overwhelmed" by the news when he contacted them.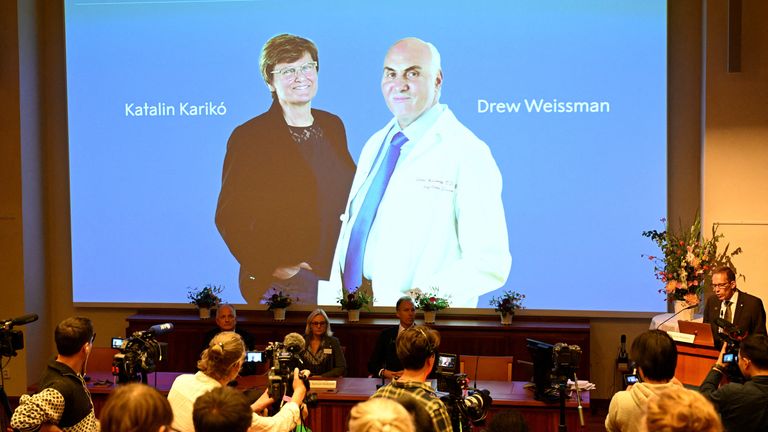 "This year's Nobel Prize recognises their basic science discovery that fundamentally changed our understanding of how mRNA interacts with the immune system, and had a major impact on society during the recent pandemic," said Rickard Sandberg, a member of the Nobel Assembly at Karolinska Institute.
Monday's announcement in Stockholm, Sweden, kicks off this year's awards with the remaining five to be unveiled in the coming days.
The prizes, first handed out in 1901, were created by Swedish dynamite inventor and wealthy businessman Alfred Nobel, and are awarded for achievements in physics, chemistry, literature and peace, and in later years also for economics.
The carry a cash award of 11 million Swedish kronor (£820,000). The money comes from a bequest left by the prize's creator, who died in 1896.
This breaking news story is being updated and more details will be published shortly.
Please refresh the page for the fullest version.
You can receive Breaking News alerts on a smartphone or tablet via the Sky News App. You can also follow @SkyNews on X or subscribe to our YouTube channel to keep up with the latest news.