Firearms officers in the Metropolitan Police are planning a mass downing of guns if the identity of the officer accused of Chris Kaba's murder is made public by a judge.
An officer appeared at court last Thursday charged with the murder of Mr Kaba, 24, who was killed in September last year in Streatham Hill, south London.
The Met officer is known only as NX121 after a district judge granted an interim anonymity order.
But the order could be lifted at a hearing at the Old Bailey on 4 October, which would lead to the officer being named publicly.
A serving firearms officer told Sky News that many officers are considering handing in their weapons if the anonymity order is lifted.
He said: "The anonymity hearing will determine what happens. If he loses his anonymity, then serious questions will be asked.
"I haven't handed my firearm in yet, but I would if that happens – and there are many others that would do the same."
The protest has been confirmed by two other firearms officers who have also spoken to Sky News.
It is standard court procedure for anyone accused of a crime to be named publicly in open court, but the legal team for the defence has made an application for officer NX121 to remain anonymous.
Dad-to-be Mr Kaba died from a single gunshot to the head after the car he was driving was blocked in by a police vehicle and an officer opened fire.
It later emerged that the Audi which Mr Kaba was driving had been linked to a gun incident the previous day.
Read more:
High-profile fatal police shootings in UK
What happens to police officers if they fire their guns?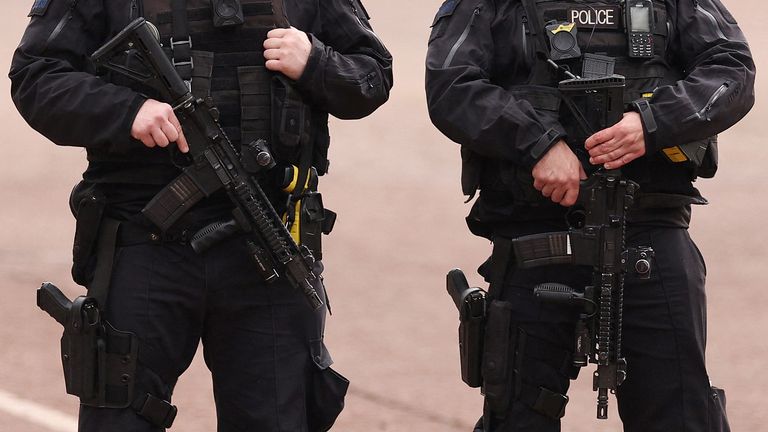 Hundreds of Met officers handed in their weapons after officer NX121 was charged with the murder of Mr Kaba, and the Army was placed on standby to support the Met.
Met Commissioner Sir Mark Rowley said there are "significantly" fewer firearms officers available and warned the force may have to make some "difficult choices" because of staff shortages.
Speaking at a meeting of the London policing board, Sir Mark said: "Officers are extremely anxious and I think it's important to put this into context.
"A lot of this is driven by families – many of them are under pressure from their partners, wives, husbands, parents, children saying, 'I'm worried about what you might go through based on your job'."