Police are investigating a confrontation at a shop in south London between a customer and a man believed to be an employee, with viral video footage of the incident sparking protests.
Officers visited the shop, Peckham Hair and Cosmetics in Rye Lane, Peckham, just after 1.15pm on Monday following reports a 31-year-old woman had attempted to steal items and was prevented from leaving by an employee.
The woman was arrested on suspicion of assault and later bailed pending further enquiries, the Metropolitan Police said.
There is no suggestion the man has been arrested.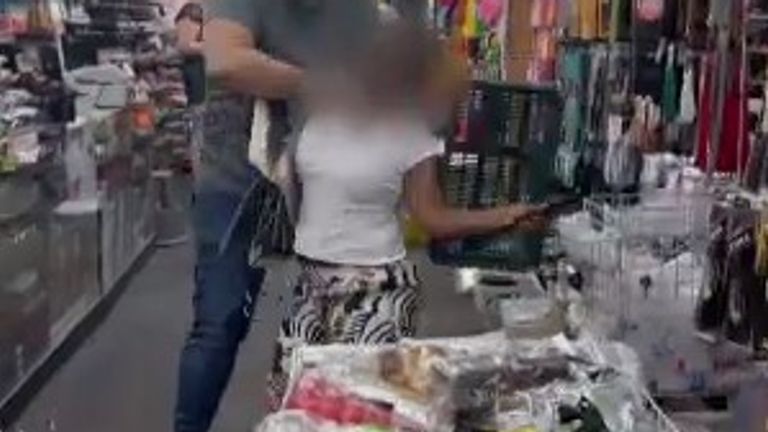 Demonstrators gathered outside the shop on Tuesday afternoon after the video was shared on social media.
Footage shows a violent confrontation between the man, said to be of Asian heritage, and the black woman.
He then appears to grab her by the throat before restraining her by her arms, as she tries to break free from his grasp.
London Mayor Sadiq Khan tweeted: "I know Londoners are concerned by the recent events in a shop in Peckham. I'm in touch with the Met Police and am urgently seeking further information."
Sistah Space, a charity which supports women of African and Caribbean heritage, criticised the police for arresting the woman.
They told Sky News: "What we all saw in that video was traumatic. People do not understand how triggering this is to watch, much less to experience.
"This black woman was attacked and there is no excuse for it, to add insult to injury she was arrested and the perpetrator was left alone at the scene of the crime.
"She has been failed by the police and violently attacked by a criminal with no accountability."
The charity also shared footage on Instagram showing women chanting "shut it down, shut it down" outside the shop during the protest.
Activist Sayce Holmes-Lewis posted footage on social media urging people to boycott the store and to assemble outside at 2pm to peacefully protest.
"We hit them in the pocket, that's the only language they understand," he said.
"Emotions can get the better of us sometimes so it's important that we keep a lid on emotions and be very clear on our objective today, which is to make sure that we boycott this store and any other store that is going to treat us in a derogatory manner and disrespectful, and extract money from the community and not put anything back in."
Mr Holmes-Lewis told Sky News: "I went because I wanted to stand in solidarity with black women abused routinely not protected and supported in the way they should be.
"The protest was peaceful, purposeful and looking for a positive outcome that supports the lady in question.
"[The] point of the protest was to showcase people that treat women in this way, it can't be done and we will come out in force to support them and if they continue to do this, will take our business elsewhere."
He added: "The CCTV doesn't make a difference, the man is 6ft 2in and twice the size of the lady.
"If no one was there filming and no one to back the lady, who knows what was going to happen. There are levels of violence we are not going to accept, doesn't warrant what he did."
Read more on Sky News:
Investigation after malicious email sent to schools
'Brazilian butt lift' warning after death of Briton in Turkey
Poundland to take over up to 71 Wilko stores
The Metropolitan Police have appealed for people to remain calm while a full investigation is carried out into the incident.
Click to subscribe to the Sky News Daily wherever you get your podcasts
Detective Chief Superintendent Seb Adjei-Addoh, local policing commander for Southwark, said: "We know people will be concerned about a video circulating online of an incident in a shop.
"Our officers attended on Monday and continue to investigate the full circumstances of what has taken place. The investigation will include reviewing the actions of everyone involved.
"I would like to thank people in our local community for remaining calm and giving us the time to conduct a thorough investigation.
"If you have information that may help us I would urge you to get in touch."