The taxpayer bill on asylum almost doubled in a year to nearly £4bn as Rishi Sunak said the cost was "unacceptable" and warned the system is under "unsustainable pressure".
Home Office spending on asylum rose by £1.85bn, from £2.12bn in 2021/22 to £3.97bn this year.
A decade ago, in 2012/13, the total cost to the taxpayer was £500.2m.
Channel crossings topped 19,000 for the year so far, Home Office figures showed, despite Mr Sunak's promise to voters that he would "stop the boats" bringing migrants across the English Channel.
About 80% of asylum seekers are waiting longer than six months for an initial decision, government statistics show.
Mr Sunak has also pledged by the end of 2023 to clear the backlog of around 92,601 so-called "legacy" cases which had been in the system as of the end of June last year.
But in the six months since Mr Sunak made his promise, the figure reduced by just less than a quarter.
He told the Daily Express: "The best way to relieve the unsustainable pressures on our asylum system and unacceptable costs to the taxpayer is to stop the boats in the first place.
"That's why we are focused on our plan to break the business model of the people smugglers facilitating these journeys, including working with international partners upstream to disrupt their efforts, stepping up joint work with the French to help reduce crossings and tackling the asylum backlog."
'Government broke asylum system'

Overall, a total of 175,457 people were waiting for an initial decision on an asylum application in the UK at the end of June 2023, up 44% from 122,213 for the same period a year earlier – the highest figure since current records began in 2010.
Of these, 139,961 had been waiting longer than six months for an initial decision, up 57% year on year from 89,231 and another record high.
Labour said the record-high asylum backlog amounts to a "disastrous record" for Mr Sunak and Home Secretary Suella Braverman, while campaigners called for claims to be processed more efficiently.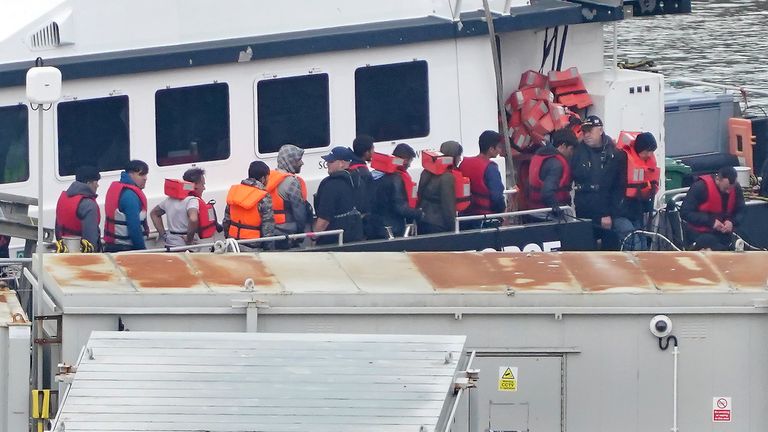 But the prime minister defended the government's progress, saying: "We've already reduced the legacy backlog by over 28,000 – nearly a third – since the start of December and we remain on track to meet our target.
"But we know there is more to do to make sure asylum seekers do not spend months or years – living in the UK at vast expense to the taxpayer – waiting for a decision."
Amnesty International UK said it was "utterly disgraceful that new asylum laws are being introduced to actually prevent the processing of claims altogether, which will make this backlog, its cost and the limbo it imposes on people even worse".