Israeli infantry and tanks have carried out "localised raids" in Gaza – the first hint at a shift to ground assaults.
The small raids were carried out to attack Hamas rocket crews and seek information on the location of hostages taken by Palestinian gunmen last Saturday, Rear Admiral Daniel Hagari said.
It is the first time the Israeli military has stated ground troops have been operating inside the besieged strip, entering the territory to battle Hamas fighters and destroy weapons as well as search for evidence about the captives.
Early on Saturday morning, the Israeli Defence Force (IDF) said more than 120 civilians were being held hostage by Hamas inside the Gaza Strip.
Israeli media reported remains of people who had gone missing in last week's attack had been found during the IDF raids.
According to Haaretz, armed forces entered an enclave where it is thought up to 200 people were being held hostage by Hamas, and retrieved the bodies of several people.
Shortly after the announcement, Hamas's press office said 70 people, mostly women and children, had been killed in an Israeli airstrike on convoys fleeing Gaza City.
The cars were struck in three places as they headed south from the city, it said.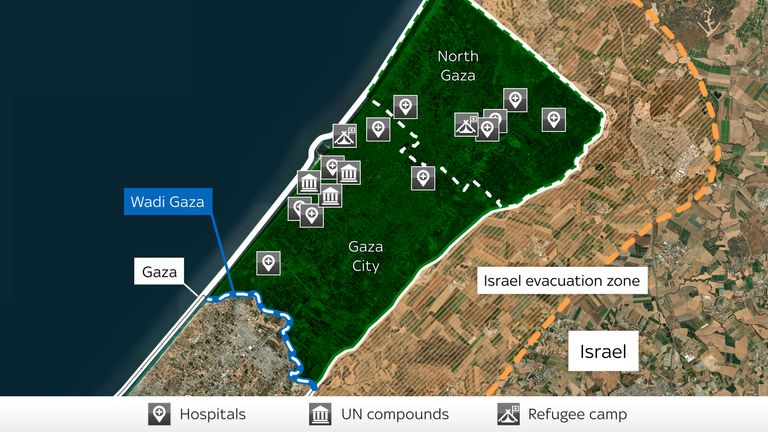 Follow live: Gazans told 'go south if you want to live'
It was not immediately clear who the target of the airstrikes was, or whether militants were among the passengers.
Palestinians began a mass exodus in the north of Gaza after Israel's military warned more than a million people to evacuate toward the southern part of the territory to "save their lives".
In a televised address, Prime Minister Benjamin Netanyahu said the counteroffensive was "only the beginning" as he vowed to "destroy" Hamas, adding: "We are striking our enemies with unprecedented might."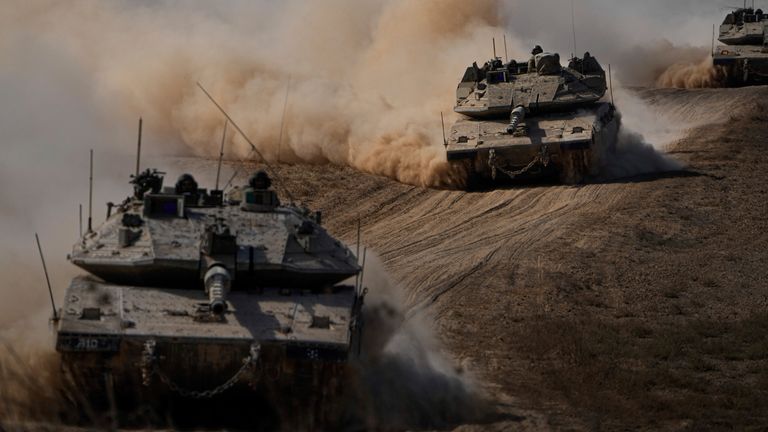 On Telegram, the Israel Defence Forces (IDF) said it was conducting "a wide-scale strike on terror targets belonging to the Hamas terrorist organisation in the Gaza Strip".
For nearly a week, Israel's military has been launching retaliatory airstrikes on Gaza targeting Hamas since the ruling Palestinian militant group stormed the border last weekend, killing hundreds of Israelis in their homes – as well as 260 others at a music festival.
Gaza streets reduced to rubble

The Palestinian health ministry said 1,900 people have been killed in Israeli strikes on Gaza, including hundreds of women and children, and more than 7,600 people were injured.
Israel said a total of 1,300 of its people have been killed since Saturday's surprise raid as its troops continue to mass along the barbed wire fence ahead of a possible ground offensive on Gaza, with 300,000 reservists called up.
About 150 hostages are thought to be held in the narrow coastal enclave by Hamas which has been attacking Israel with rockets.
Israel: 'We are escalating'

IDF Lieutenant Colonel Peter Lerner told Sky News the localised operations were conducted to find "potential abductees", identify bodies and "seek out terrorists".
Asked if this was the beginning of a bigger ground operation, he said it was "the continuation of what we've been doing for the last seven days".
"We're escalating. That is part of our efforts to restore calm and security to the people of Israel and defeat Hamas," he added.
He also said there was "still a threat" in southern Israel and that Hamas "terrorists" could still be in the territory.
Meanwhile, the United Nations has said it is "impossible" for Palestinians to move to the south of Gaza in the next 24 hours, after citizens were told to evacuate by Israel's military. The UN said the order covered 1.1 million people, or nearly half of Gaza's 2.3 million population.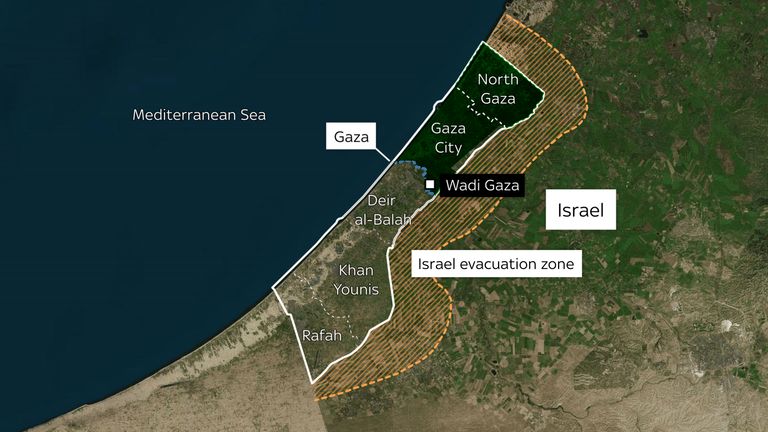 The UN's Palestinian refugee agency has warned Gaza was becoming a "hell hole" and was on the "brink of collapse".
Israel has been dropping leaflets written in Arabic into the Gaza Strip urging people in the north to move south across the Wadi Gaza – a piece of coastal wetland with a river running through the middle.
In other key developments:
• It's "highly likely" Britons among hostages
• Israel denies claims it used white phosphorous as a weapon in Gaza and Lebanon
• Protests around the world show support for Palestinians
• Humza Yousaf's mother-in-law shares tearful plea from Gaza
Yousaf tearful over family in Gaza

UN spokesman Stephane Dujarric said the UN "considers it impossible for such a movement to take place without devastating humanitarian consequences".
Click to subscribe to the Sky News Daily wherever you get your podcasts
The IDF said "this evacuation is for your own safety", but in response, Hamas has called the warning "fake propaganda" and urged Palestinians "not to fall for it".
The UN has appealed for the order to be rescinded to avoid turning "what is already a tragedy into a calamitous situation".
Read more on this story:
Why Israel is braced for Hezbollah attack from Lebanon
How negotiators will be working to free Hamas hostages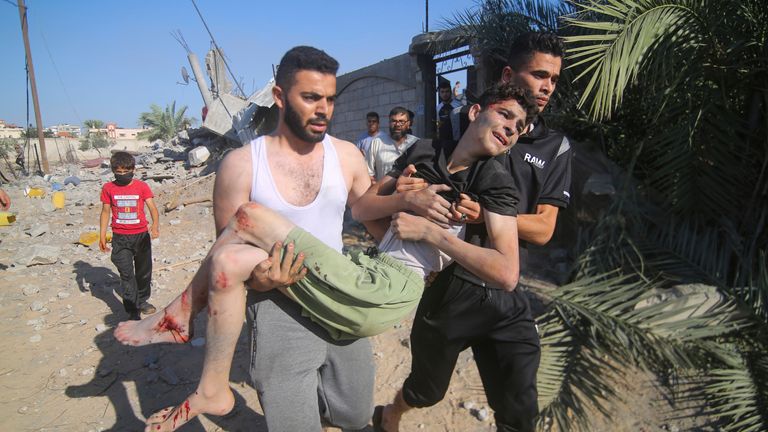 The World Health Organisation has also called for the order to be immediately reversed to protect health and reduce suffering.
Palestinian President Mahmoud Abbas told US Secretary of State Antony Blinken in Amman on Friday that he "rejects the forced displacement" of Palestinians in Gaza.