Israel's prime minister has warned people living in Gaza to leave the area as he vowed to reduce parts of the territory "into rubble" in revenge for a "black day".
Benjamin Netanyahu had earlier said Israel was at war with Palestinian militants from Hamas, which governs Gaza, after their fighters launched a surprise attack on his country on Saturday morning.
Rescue service officials told Israeli media at least 250 people were killed in the deadliest attack on the country in decades.
Israel's health ministry said at least 1,590 people had been injured.
Meanwhile, the Palestinian Health Ministry said at least 232 people had died and 1,700 wounded in Israel's retaliatory airstrikes on Gaza.
'Leave now'
In a televised address, Mr Netanyahu said the country's military would "take revenge for this black day" but he warned: "This war will take time. It will be difficult."
In a statement he later posted on X, formerly known as Twitter, he wrote: "All of the places which Hamas is deployed, hiding and operating in, that wicked city, we will turn them into rubble.
"I say to the residents of Gaza: Leave now because we will operate forcefully everywhere."
Rockets were seen landing on Gaza hours after Mr Netanyahu issued the threat.
Netanyahu says war will 'take time' – follow live updates
Israel will stop supplying electricity, fuel and goods to Gaza, which is already blockaded, according to a statement from Mr Netanyahu's office on Saturday night.
Much of Gaza was already thrown into darkness by nightfall after electrical supplies from Israel, which serve power to almost all of the territories, were cut off earlier in the day.
Mr Netanyahu also said the "first phase" of the counter-operation had ended, and that Israel had fought off the majority of Hamas militants.
He vowed to continue the offensive "without reservation and without respite".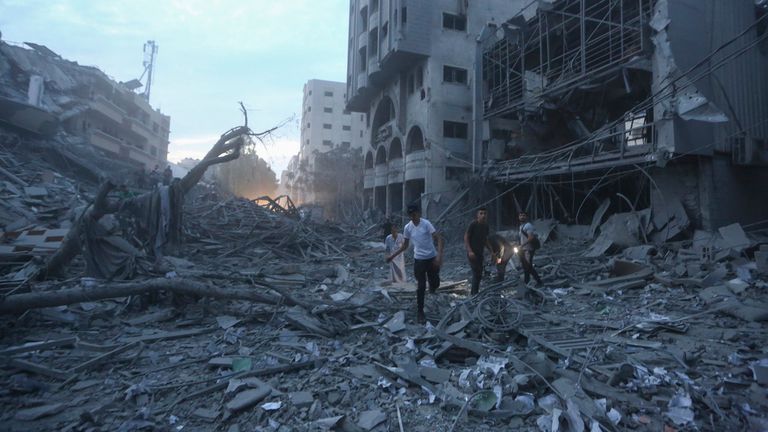 Elderly woman captured by Hamas

'Record year for Palestinians killed by Israelis'
Hamas gunmen targeted up to 22 locations in the initial assault with gun battles continuing well after nightfall. Militants held hostages in two towns and occupied a police station in a third.
Footage appeared to show Hamas fighters paraglide into Israel as they began a mass incursion.
Hamas' military wing claimed it was holding dozens of Israeli soldiers captive in "safe places" and tunnels in Gaza.
The Israeli military confirmed that a number of Israelis were abducted but would not give a figure.
Video shows aftermath of Gaza airstrike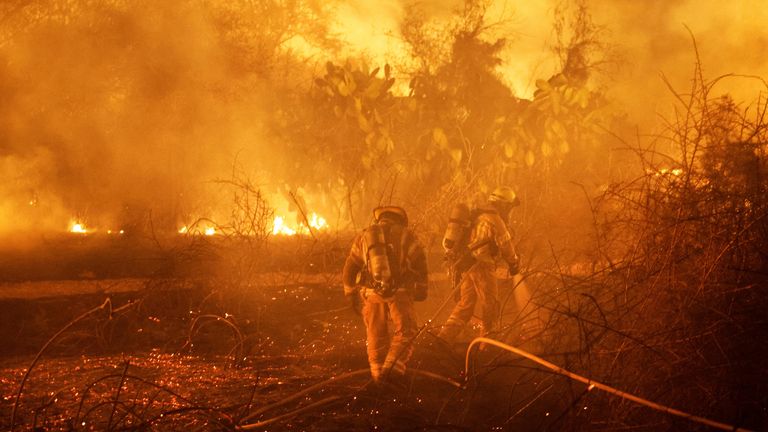 Palestinian activist Nour Odeh, a former Palestinian Authority spokesperson, told Sky News' US partner NBC News that the attack comes after a record-breaking year for the number of Palestinians killed by Israelis.
He said Saturday's incursion was not the "beginning of the story" and Israeli forces have occupied Palestinian territories for over 50 years.
Mr Odeh said: "It's a record-setting year for the number of Palestinians killed, the number of Palestinian children killed, the number of homes demolished, the number of attacks by armed settlers that, you know, burned down homes and attack people and wounded and killed Palestinian civilians."
Read more:
An astonishing unravelling of a situation long forgotten
Unpredented attack causes crisis – and days of war are ahead
Deeply divided Israel caught out by incursion
Sunak says Israel has right to defend itself
Israeli woman purportedly captured after attack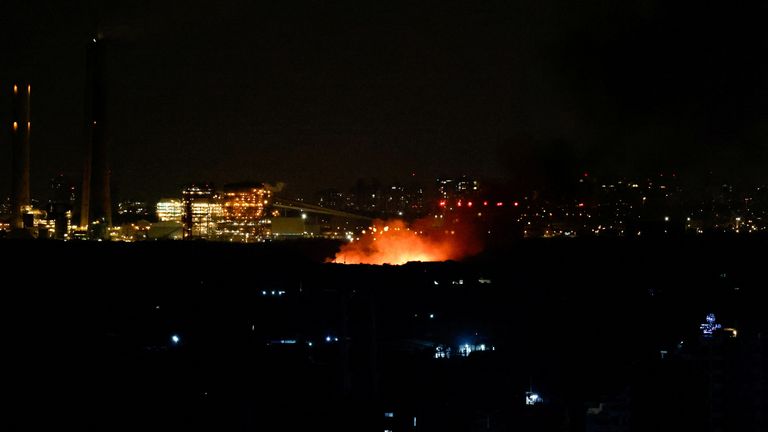 Israel responds to Hamas attacks
After nightfall, Israeli airstrikes in Gaza intensified, flattening several residential buildings in giant explosions, including a 14-storey tower that held dozens of apartments as well as Hamas offices in central Gaza City.
Israeli forces fired a warning just before and there were no reports of casualties.
Soon after, a Hamas rocket barrage into central Israel hit four cities, including Tel Aviv and a nearby suburb, where two people were seriously injured.
Throughout the day, Hamas fired more than 3,500 rockets, the Israeli military said.
Analysis: The consequences of Hamas' attack will be truly terrifying for the people of Gaza
The seriousness of this moment cannot be overstated. It represents a truly bloody turning point in this decades-long conflict.
Short term, we can predict what will happen. An Israeli military ground operation into Gaza seems certain.
The civilian loss of life will be huge. The consequence of Saturday's terrorism against Israel will be truly terrifying for the people of Gaza who cannot leave the blockaded strip.
Beyond that, so many unknowns. To what extent will the West Bank be drawn into the conflict? The Palestinian Authority which runs the West Bank (and cooperates with Israel) is distinct from Hamas who run Gaza. But across the West Bank, hopelessness has pushed people away from the moderation of their own leaders to the extremism of Hamas.
To the north, how will Hezbollah in Lebanon respond? Their well-rehearsed opportunist tactics are to attack from the north, to pressure Israel on another front. Lebanon's broken politics and economy makes things even more dangerous.
Then there is the Hamas and Hezbollah puppet master, Iran. How will Israel respond to their conviction that all this is, in the end, an Iran problem?
The potential for spillover in the Israel-Palestinian conflict is always there. It's just got so much more real.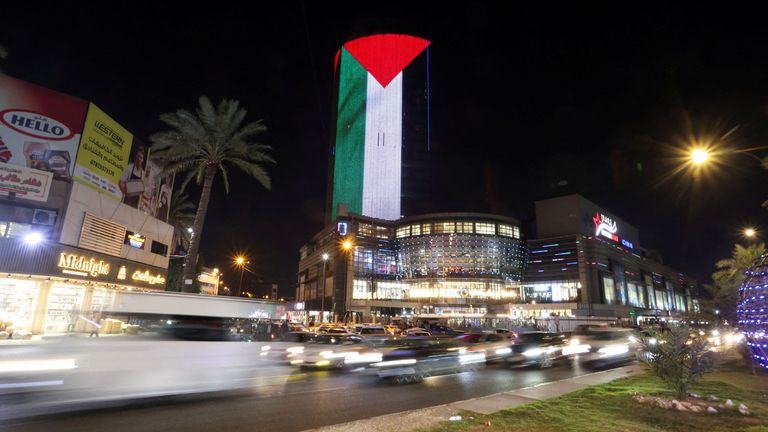 US 'stands with the people of Israel'
In the southern Gaza city of Rafah, an Israeli airstrike late on Saturday flattened a home, killing 12 members of the Abu Qouto family, neighbours said. Ten members of a family in the northern town of Jebalya were killed in another airstrike, relatives said. It was not known why the homes were targeted.
Palestinians demonstrated in towns and cities around the West Bank on Saturday night amid the offensive. Palestinian health officials said Israeli fire killed five there, but gave few details.
President Joe Biden said from the White House that he had spoken with Mr Netanyahu to say the United States "stands with the people of Israel in the face of these terrorist assaults".
He said: "Israel has the right to defend itself and its people, full stop."