Stormzy joined thousands of mourners who gathered in south London to honour the life of 15-year-old stabbing victim Elianne Andam.
The grime artist was seen among crowds at a candlelit vigil on Wednesday evening outside Whitgift Shopping Centre in Croydon, where the teenager was fatally wounded a week earlier.
Elianne died after being attacked on her way to school during the morning rush hour on Wednesday, 27 September.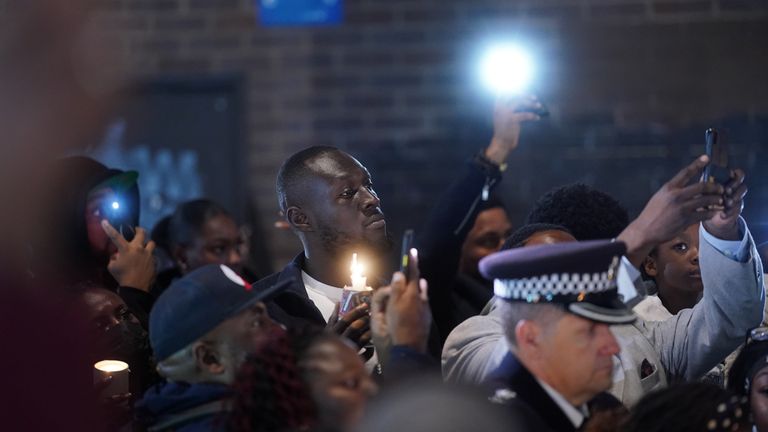 Grieving family members led attendees in prayer before they joined in with a choir singing Amazing Grace.
Many people wore white to the gathering, where Elianne's mother, Dorcas Andam, described her as an "amazing beautiful girl".
Ms Andam said her "smart, charismatic" daughter "loved living life to the fullest" and had ambitions of becoming a lawyer.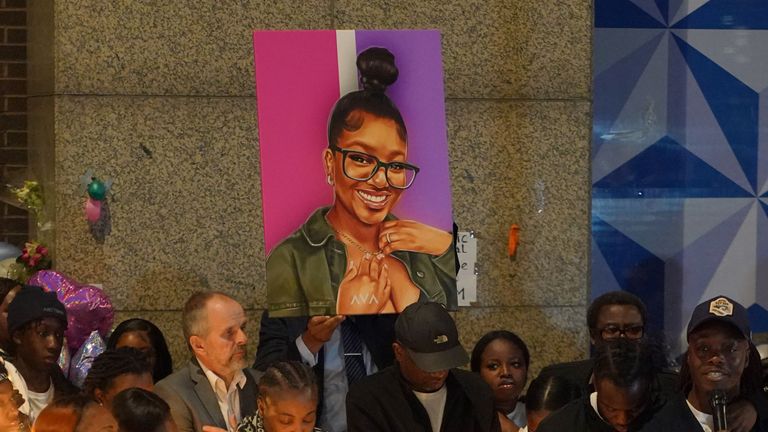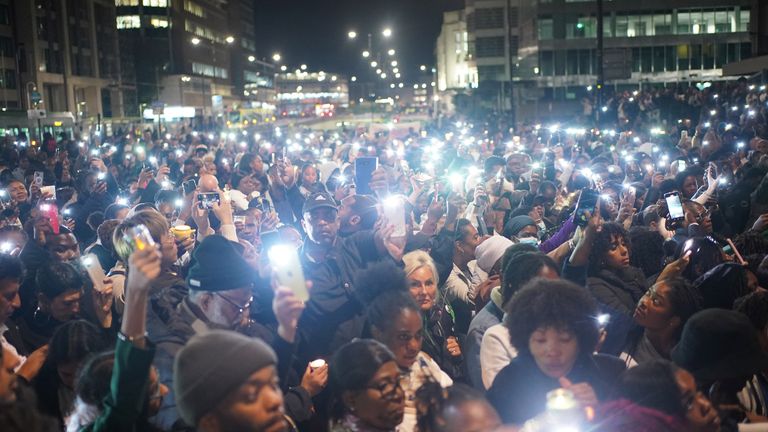 "She brought joy to so many, including her friendship groups.
"She loved and touched lives around her."
Elianne was "just a normal teenager", her mother said.
"I can't believe we won't be seeing her anymore. I can't believe she won't be there to complain about her teenage activities.
"We should be planning her prom after year 11," Ms Andam said, adding that the 15-year-old had "so much to live for".
"It was a sad day for the whole family, now we are planning her funeral."
Elianne met with two female friends before travelling to the shopping centre on the morning she was attacked.
It is alleged she was stabbed repeatedly by a masked knifeman who later fled the scene.
Read more:
The teenagers killed in London so far in 2023
Communities rally in Croydon to support family
Witnesses said a bus driver and a passer-by tried in vain to save Elianne's life after the attack, around 8.30am.
Police responded to the incident in Wellesey Road within two minutes but the teenager was pronounced dead at the scene at 9.20am.
Teenager charged with Elianne's murder


A 17-year-old boy was arrested in New Addington, south London, at 9.45am on the same day.
He has been charged with murder and is due to face trial on 29 April next year.
Relatives previously said their "hearts are broken" following the death of the schoolgirl, who they hailed as the "light of our lives".
"She was only 15, and had her whole life ahead of her, with hopes and dreams for the future.
"All those dreams have now been shattered. Our lives have fallen apart, along with that of our wider family."