Wagner Group boss Yevgeny Prigozhin has shared his first video address since his aborted June mutiny.
The mercenary chief – who was sent-off to Belarus in the aftermath of his march on Moscow – released footage of himself speaking while wearing camouflage and holding a rifle.
It is believed from the footage that Prigozhin is in Africa and in the video talks about Russia making the continent "free" and how Wagner is tackling terrorist groups in the region and wants to increase its presence in Africa.
Prigozhin later shares details about Wagner's recruitment in the video, which is accompanied by a telephone number for those who want to join.
The video, shared on Telegram channels affiliated with the Wagner Group, is the first video address Prigozhin has shared since he marched his mercenaries towards Moscow in late June.
Grainy footage, which appeared to show Prigozhin welcoming his mercenaries to Belarus, was shared in July.
Wagner boss 'welcomes fighters'

He called off the mutiny and his mercenaries pulled back after Belarusian leader Alexander Lukashenko helped broker a "deal", which would supposedly see the businessman move to the Russian-allied country and his forces absorbed into the military.
Prigozhin – once a close confident of Vladimir Putin – had often lambasted the likes of defence minister Sergei Shoigu and top general Valery Gerasimov in public addresses over their handling of the Ukraine invasion.
Since the mutiny, some Wagner fighters have moved to Belarus and started training the army there.
Analysing Putin since the Wagner mutiny

In the latest video, Prigozhin is seen standing in a desert area in camouflage and with a rifle in his hands, with armed men and a truck seen in the distance.
In the footage, he says: "The temperature is +50(C) – everything as we like. The Wagner PMC makes Russia even greater on all continents, and Africa – more free.
Read more:
Yevgeny Prigozhin: The former hot dog seller and thug who became Wagner boss
Wagner troops leave Central African Republic after 'refusing contracts with Russia'
"Justice and happiness – for the African people, we're making life a nightmare for ISIS and al Qaeda and other bandits."
He then says Wagner are recruiting and the group "will fulfil the tasks that were set".
Wagner's forces have previously been active in parts of Africa, including the Central African Republic and Mali.
They've been accused using their military prowess to blackmail governments they claim to be supporting into granting lucrative mining and mineral rights – from which a lot of the group's wealth is derived.
They've also been accused by the UN and other agencies of widespread human rights abuses.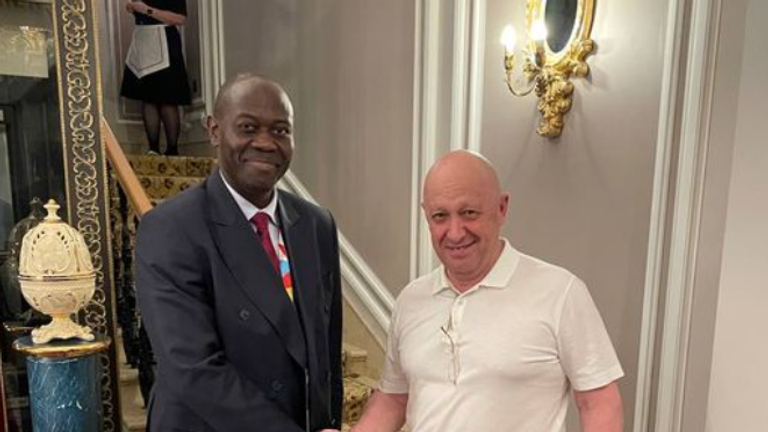 Supporters of the recent coup in Niger have been seen waving Russian flags, and while there has been no evidence of Wagner's involvement, Prigzohin has hailed the move as good news and has offered the service of his fighters.
Though it is believed Prigozhin is in Africa in his latest video, it is not clear exactly where and Sky News has been unable to independently verify this.