"Balloongate" is a compelling story for a number of reasons, not least the balloon itself.
The American public is locked onto commentary of its journey as it proceeds over the continent.
The Pentagon described it as "manouvreable", indicating it was under someone's control.
If the Chinese are steering it, where will they fly it, where will it land and who will take possession of it?
They are the hardware questions exercising the US military as it monitors the balloon's progress and mulls over whether or not to shoot it down.
Meanwhile, the tiny white dot 60,000ft in the sky casts a large political shadow.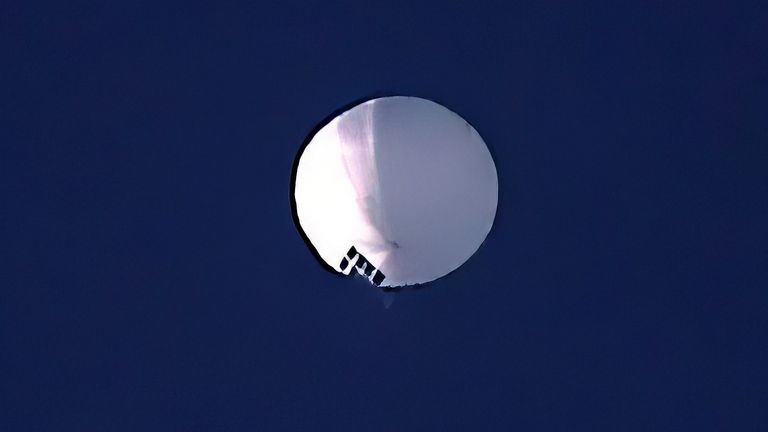 It has darkened the diplomatic mood to the extent that US secretary of state Antony Blinken had no choice but to postpone his trip to Beijing.
"Unacceptable and irresponsible", he said, in announcing that his meeting with President Xi was off.
State department officials said events would "narrow the agenda", which seems a fair assessment.
The talks were going to be difficult enough given the recent history of the world's most important bilateral relationship – Taiwan, tensions, and all that.
Watch:
Future Wars: Could there ever be a conflict between the US and China?
The meeting next week was trailed as a reset in relations, an effort to warm the diplomatic thaw we might have seen at the G20 last year when Biden met Xi.
The hope for the visit was to lay down a structure, a foundation for improved relations, superpower style – "invest, align, compete", as the US describes the three pillars of its relationship with China.
However, the act of aggression hanging over the occasion (literally) could only undermine trust and weight discussions towards the antagonism that exists between Washington and Beijing.
Postponing the trip was a significant political move, as the United States negotiates a relationship that state department officials described as "its most complex and consequential".
The US Secretary of State Antony Blinken said he is 'confident' the balloon is a Chinese surveillance device, following his decision to postpone his trip to China.

And yet, there are voices that insist the US should have gone further.
The hawks in Washington channelled their dissatisfaction through social media.
Republican senator Tom Cotton tweeted: "President Biden should stop coddling and appeasing the Chinese communists. Bring the balloon down now and exploit its tech package, which could be an intelligence bonanza."
Similar sentiments echoed through Republican ranks as President Biden's opponents demanded a muscular response.
Read more:
What are spy balloons?
What they got was a measured reaction, a clear dissatisfaction anchored in diplomacy that recognises a reality in which superpowers spy on each other all the time.
Increasing hostility between the United States and China carries danger for us all.
The Biden view appears to be that a balloon that poses no military threat and gathers limited intelligence isn't the end of the world.
Nor should it be.